DEALING WITH THE SPIRIT OF IMPOSSIBILITY
INTRODUCTION
The Bible says, "But with God all things are possible." The God of the Bible has no business with impossibility. However, when men fail to secure His help through prayer and righteous living, impossibility may become their experience. Nehemiah's project of rebuilding the walls of Jerusalem could not be stopped because he laid the foundation of his project in prayer. He secured the help of God through prayer before embarking on the project at all. Consequently, he was able to finish his project earlier than expected.
Another way to procure God's help in undertaking a project to conclusion is to secure what we call 'the Alpha and Omega anointing.' This is the anointing to begin and finish a project successfully. Because this anointing flows from the altar of God, we can receive it by ministering to God's altar through a consistent prayer life and by deliberately giving sacrificially to the altar of God. Some people call it 'Seed faith.' It involves sowing material seeds to churches and ministers of the gospel in order to obtain the (Alpha and Omega) anointing to begin and finish projects successfully. As we do these, possibility power will flow from God's altar to facilitate the successful completion of our project.
ANCHOR SCRIPTURES FOR MEDITATION, FAITH, AND PRAYER
• And the LORD said unto Abraham, Wherefore did Sarah laugh, saying, Shall I of a surety bear a child, which am old?
Is anything too hard for the LORD? At the time appointed, I will return unto thee, according to the time of life, and Sarah shall have a son. (Gen 18:13-14).
• Then Job answered the LORD, and said, I know that thou canst do everything, and that no thought can be withholding from thee. (Job 42:1-2)
• Remember ye, not the former things, neither consider the things of old. Behold, I will do a new thing; now it shall spring forth; shall ye not know it? I will even make a way in the wilderness, and rivers in the desert. (Isaiah 43:18-19).
• Ah Lord GOD! Behold, thou hast made the heaven and the earth by thy great power and stretched out arm, and there is nothing too hard for thee: Thou showest lovingkindness unto thousands, and recompensest the iniquity of the fathers into the bosom of their children after them: the Great, the Mighty God, the LORD of hosts, is his name. (Jeremiah 32:17-19)
• But Jesus beheld them, and said unto them, with men this is impossible, but with God all things are possible. (Matt 19:26)
• For with God nothing shall be impossible. (Luke 1:37)
PRAY LIKE THIS
Lord, I repent for all my mistakes and sins the enemy is using to afflict me with the spirit of impossibility. I receive your cleansing now in Jesus name.
In Jesus name, I take the weapons of faith, prayer, and God's word to fight your spirit of impossibility. Get out of my life right now and come back no more.
I am a product of God's possibility; therefore all things shall be possible unto me, in Jesus name.
I break every curse and covenant of impossibility over my life, in Jesus name.
I release myself from the collective captivity of impossibility, in Jesus mighty name.
Every seed, root and tentacle of impossibility in my life, die right now in Jesus name.
I overthrow the regime and reign of the spirit of impossibility, in my life.
Every sentence and sanction of impossibility against me shall not stand, in Jesus name.
You spirit and power of impossibility in my life, be uprooted and consumed by God's fire, in Jesus mighty name.
I withdraw my name, my picture, my clothing, my projects and programs from the altar of impossibility in Jesus name.
I refuse to swim in the river of impossibility in Jesus name.
I overthrow all King Uzziahs that are making it impossible for me to see the glory of God.
I receive a clean break from the grip and holds of impossibility.
I withdraw my membership from the CLUB of IMPOSSIBILITY.
I refuse to study at the University of Impossibility, in Jesus' name.
Today, I enroll in the University of Possibility, in Jesus name.
The wind of impossibility blowing near me, stop right now, in Jesus name.
You river and stream of impossibility flowing near me, dry up now, in Jesus name.
I receive the strength of the Lord to leap over the wall of impossibility, in the name of Jesus.
With God all things are possible, therefore I command every force and power challenging my release and deliverance to fall and rise no more, in the name of Jesus Christ.
Since the Red Sea of impossibility and the Jordan of impossibility parted for the Israelites to cross over, therefore, I command all rivers of impossibility to part before me, in Jesus name.
David slew the Goliath of impossibility; I also slaughter my Goliath of impossibility right now, in Jesus name.
If it was possible for Lazarus to rise from the grave, I shall also rise from the grave of impossibility, in Jesus name.
You angels of possibility and success will minister to me this year.
Father, keep away from me all impossibility workers, in Jesus name.
With God my father, all things are possible, with me also, all things are possible.
In Jesus name, I will reach my goal before the enemy knows what's happening.
Because I am born of God, therefore I overcome the world of impossibility in Jesus name.
In Jesus name, I boldly affirm and declare; that my life, my dreams, my vision, my projects and my expectations are all possible.
Every abandoned project in my life, receives a new lease of life, in Jesus mighty name.
I sack and disarm all wicked demons of impossibility assigned to check-mate my progress, in Jesus.
Father, thank you for making life easy for me this year. Amen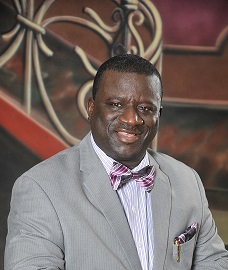 Revd. Dr. Moses Aransiola
General Overseer of the Gethsemane Prayer Ministry International
Revd. Dr. Moses Aransiola is the President and General Overseer of the Gethsemane Prayer Ministry International. He is also the national director of Nigeria Pray